$

45.00
West Coast Book Bundle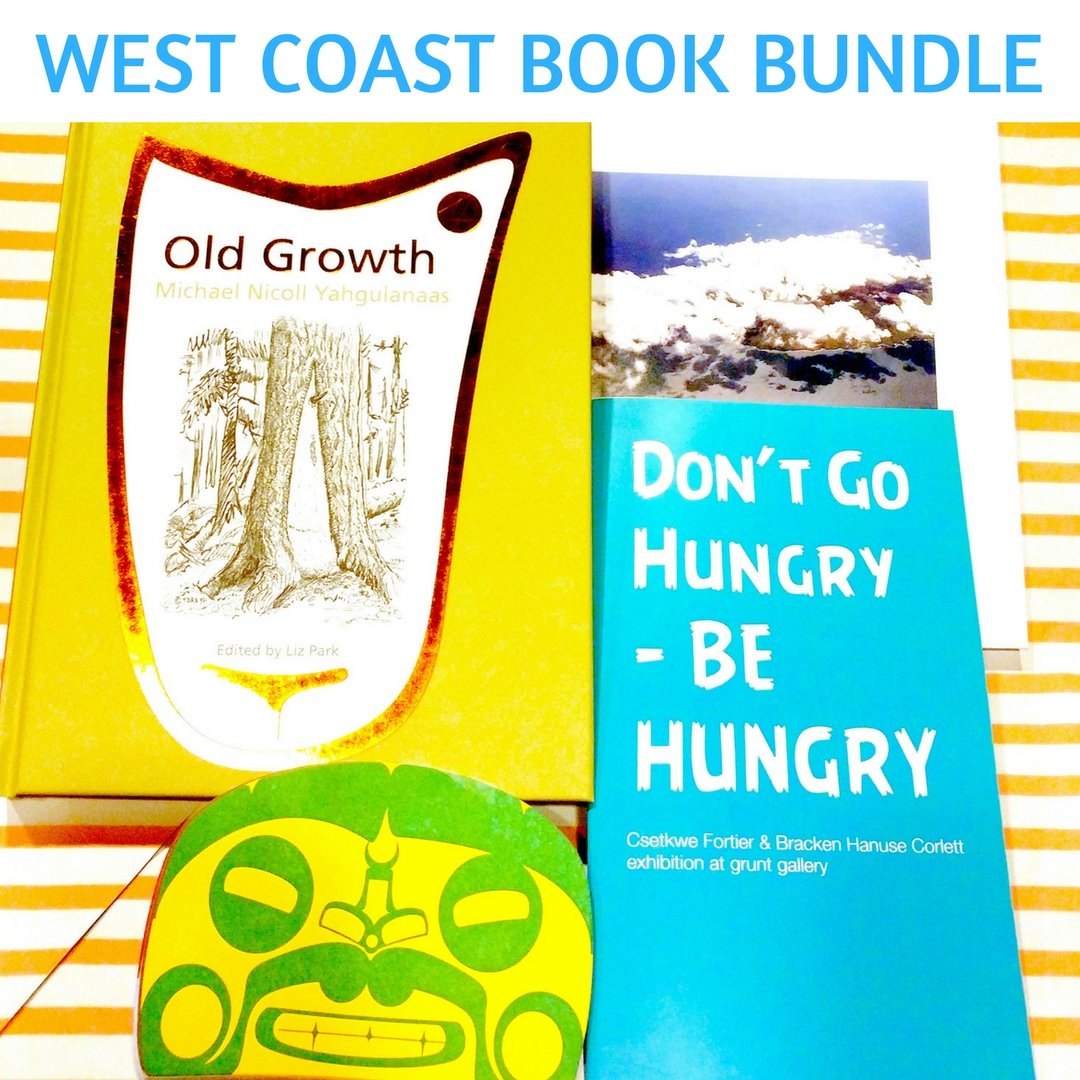 Journey to Kaho'olawe/Old Growth: Michael Nicoll Yahgulanaas/PeopleOfMountPleasant Coasters/Don't Go Hungry – Be Hungry
$45 (regular $67)
Journey to Kaho'olawe (2017)
An artist publication by Hans Winkler and T'uy't-tanat Cease Wyss. The book is the result of a four-year process centred on the Hawaiian Island of Kaho'olawe, a sacred site to the Hawaiians in recovery after being occupied as a practice range by the American military. The book also documents the Kanaka Native Hawaiian presence in British Columbia.
"Old Growth: Michael Nicoll Yahgulanaas" (2011)
Michael Nicoll Yahgulanaas is a renowned Haida artist who, gradually, during a thirty-year career as a political activist, began to apply classic Haida visual forms and narratives to contemporary political cartoons and comics. Containing studies and experiments, finished work previously unpublished, and works that few have seen, this book reflects on such urgent topics as depletion of natural resources, global climate change and the fundamental question of 'how to live together'. Curator & Editor: Liz park; Images, Art, Graphics, Comic Creator & Comic Writer: Michael Nicoll, Yahgulanaas; Design: Tania Willard.
#PeopleOfMountPleasant (2014) is a set of four unique paper coasters are available, vibrantly printed by local letterpress company – District Dogs. The artist, Sonny Assu, says they are Inspired by the every-day-beautiful people of Main Street. People I've met over my years of living in Mount Pleasant and the people I've met through my involvement at the Grunt. Grunt has shown me tremendous love and support over the years, and it was an honour to be able to give something back. Something beautiful. Something funny. Something that I hope inspires a conversation between strangers and a "cheers" amongst pals." These coasters can be used decoratively, given as gifts or frame.
"Don't Go Hungry – Be Hungry" (2014) is an exhibition booklet featuring work by artists Bracken Hanuse Corlett and Csetkwe Fortier. The exhibition took place at grunt in September 2014, it was curated by Lawrence Paul Yuxweluptun. The booklet includes an essay by artist and curator, Tania Willard.
.......................................................
Skip the shipping fees by picking up these items directly from grunt gallery. When paying for your items make sure to enter the discount code: PICKUP
Questions? Contact us at 604-875-9516.